By Diane Howard, Ph.D.
As an Amazon Original, On A Wing and a Prayer is now available on Amazon Prime and can be seen there with a Prime 30-Day trial. This is an extraordinary true story of faith and survival. After a harrowing experience when their pilot dies unexpectedly mid-flight, Doug White (Dennis Quaid), manages to lands their plane and save his entire family from tragedy. With no experience flying the twin-engine aircraft, White struggles to safely land the plane. With the help of a far-flung group of determined on-the-ground "angels," who join forces in a race against time and weather, the Doug White and his family learn a great deal about themselves, each other, faith, and God.
Director Sean McNamara (Soul Surfer) brings an inspiring battle against the odds to vivid life. Doug White and Terri (Heather Graham) White and their two daughters Maggie (Jessi Case) and Bailey (Abigail Rhyne) live in a small town and are deeply involved in community and church affairs. Along with his brother and best friend Jeff (Brett Rice), the movie begins with the town's annual barbecue cook-off, where the Whites handily take home first place, distributing the leftovers to the homeless afterward.
When brother Jeff unexpectedly passes away, the grieving Whites travel to Naples, Florida, for his funeral. Deeply shaken by his brother's death, Doug begins to question his long-held faith. This distresses Terri, who urges him to hold fast to their beliefs. After an emotional service, the family boards a private plane to take them home to Louisiana. But within a few minutes of takeoff, disaster strikes: Their pilot suffers a fatal heart attack. Despite having no experience flying the twin-engine Beechcraft Super King Air 200, Doug has to take control of the aircraft and tries to guide it to a nearby landing strip. Rough weather begins to roll in as he frantically contacts air traffic control for guidance, with Terri by his side as co-pilot. The couple is unaware that officials on the ground are already sending ambulances and emergency vehicles to the tarmac, anticipating the worst.
With time running out, an aspiring air traffic controller breaks protocol and contacts experienced pilot Kari (Jesse Metcalfe). From his home in Connecticut. Kari manages to contact Doug directly and to provide step-by-step advice as Doug struggles to save his family from seemingly certain tragedy. If anyone is to survive, it's going to take a miracle.
Producers are Autumn Bailey-Ford (Tulsa), Roma Downey (Son of God), and Karl Horstmann (The Case for Christ). On behalf of PRIME VIDEO, LIGHTWORKERS and METRO GOLDWYN MAYER PICTURES, in association with AUTUMN BAILEY ENTERTAINMENT, On a Wing and a Prayer is now available on Prime Video.
After more than 25 years of creating inspirational content for film and television, producer Roma Downey knows a great story when she reads one. She says, "The White family's story is just extraordinary: A man gets on a plane with his family on a beautiful Easter Sunday. When the pilot suddenly dies, he finds himself at the controls of a plane he doesn't know how to fly. It's anybody's worst nightmare."
But it's how events unfolded from there that makes On a Wing and a Prayer such a thrilling ride, explains the producer. "I've always been drawn to stories that deal with ordinary people who find themselves in exceptional situations and overcome the odds. It's a wonderful, uplifting story with a triumphant ending, and a great thrill for all of us to tell."
As it happened, a bit of serendipity came into play while casting the role of Doug White. Downey was meeting with Dennis Quaid regarding another project when the actor mentioned that he is a licensed pilot. "A lightbulb went off in my head," she says. "One thing led to another and Dennis signed on to do the movie with us. To see him at the controls of this plane, with Heather Graham right next to him, both of them white-knuckling it, is extraordinary."
Quaid remembered hearing the story back in 2009 and being amazed by it. "As a pilot myself, I wouldn't give this guy much of a chance of landing," he says. "A King Air is a pretty powerful twin-engine plane and a lot to handle. He has no idea how to fly this airplane. The only thing he knows is the button to push to talk to the control tower."
Quaid has played several real-life characters during his career, including former presidents Ronald Reagan and Bill Clinton. He says that when he plays a real person, he feels a responsibility to play them the way they would like to be seen. "Doug White is a salt-of-the-earth kind of person from Louisiana. He's a pharmacist. He is not seeking fame or fortune. And he wanted this story to be told right…"
Downey believes the realism of the out-of-control flight will make the audience feel like they are on a crazy roller coaster ride. "I'll bet they will be gasping and cheering when this plane finally touches down," says the producer. "I know that audiences everywhere are going to just love this film. It's a family film. There's no swearing, there's nothing sexual. But it plays out like a thriller. And everybody can leave the theater with a feeling of hope that even in the most extreme circumstances, miracles can happen."
In the end, says Downey, On a Wing and a Prayer reminds her of a saying that probably dates back to World War II: There are no atheists in foxholes. "If you ever find yourself at the controls of a plane that you don't know how to fly, I am certain you will be calling on the Almighty to help you. The Whites are a family of faith so they started praying and their prayers were answered."
Karl Horstmann has served as another producer of this movie. His notable film credits have included The Case for Christ, starring Mike Vogel, Erika Christensen and Faye Dunaway. He began his film career in Atlanta in the early 1990s. He first began as an editor and then became a director for Turner Broadcasting. (There, he worked on the team that launched TNT, TCM and the Cartoon Network.) Horstmann then founded Triple Horse Productions, where he directed and produced hundreds of television commercials and title sequences for Coca-Cola, Under Armour, Home Depot, the NFL, NBA and Major League Baseball. Horstmann formed Triple Horse Studios to focus his efforts on larger narrative storytelling. His first feature film was the small indie Stand Your Ground, distributed by Entertainment One. Horstmann's first television outing was a highly rated pair of History Channel primetime specials exploring the mystery of the lost colony of Roanoke.
Triple Horse Studios' mission is to collaborate, create and share compelling, redemptive moving-picture stories. It is a content creation company in Atlanta with extensive technical capabilities. It has sound stages, scenic operations, camera, lighting and grip equipment departments as well as a post-production division with screening rooms, editorial, sound, foley, visual effects, color grade and finishing for excellence and timeliness in projects from development through post-production. Additionally, Horstmann is the founder of Cine Stables, a motion picture facility and equipment rental company, and Hitching Post Digital, a visual-effects and post-production services company.
---
I recently had an insightful interview with Karl Horstmann.  I have followed and supported his work for many years. In the context of the story about On a Wing and a Prayer, I wanted to focus on the faith film industry and Karl's pioneer and developing place in it: 
DH: It seems that many new independent faith film studios are emerging all over the country and world. Why is this? This faith genre?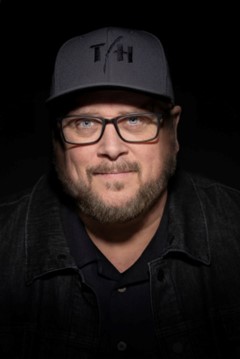 KH: There has been success, including financial, with faith and family films—the faith genre has proved viable.
DH: What are the advantages or benefits of producing a faith film with an independent studio?
KH: On a Wing and a Prayer has been produced by both a legacy studio (MGM) and independent ones (Amazon Studios…) Legacy studios work with wider audiences and platforms in general and independent studios have a lot more control.
DH: Are there ethical, moral, and/or spiritual advantages/benefits to producing a faith film through an independent studio rather than a bigger, mainstream legacy studio?
KH: For independent studios here is less compromise. Their products can be less watered-down. Independent studios can more nimbly go after projects than big studios. Independent ones have less checks, can take more risks, and can be more selective.
DH: It seems that your studio, Triple Horse Studios, provides a unique, one-stop, full-service production facility in Atlanta. 
KH:  We acquire and partner with those who share our world-view and with those whose projects can be viable. Our Cine Stables also services Triple Horse and our partners.
DH: Why are you located there in Atlanta?
KH: To be honest, we are where we are called to be, where God has planted us. The faith film industry has come to us. We also have good tax incentives and location.
DH:  Not only do you have extensive capabilities for content creation, but you also have many resources for post-production.  How does this streamline and enhance your products?
KH: We acquired equipment, because I have technical interest and experience. Because we can provide technical support, we can make better quality films.
DH: It seems that independent studios producing faith films are becoming increasingly successful. Why is this?
KH: We have had brave pioneers. Together we have cut a path where there was none. Gatekeepers and studios have seen us as increasingly viable. For example, the Erwins are now involved with Lionsgate. Basically, we all in this faith film industry have the same mission rather than being competitive. We are pulling in the same direction.
DH: How would you assess the current state of faith films in general?
KH: There is growing momentum. The content and quality of our films are improving. They are more accessible to and accepted by wider audiences. 
DH: What are the elements of an excellent faith film?
KH: Story, story, story is fundamental. Then we execute at a high level of artistry. 
DH: How can the general public support faith films?
KH:  Opening weekends critical. Word of mouth is important.
DH: What is your advice to screenwriters, producers of new faith film projects?
KH:  Find a story that grabs you and your team. Find a way to best tell it. Don't despise small beginnings.
---
To learn more about Karl Horstmann and Triple Horse Studios, visit https://www.triplehorse.com/ and follow @TripleHorseStudios on Facebook and Instagram.
This family thriller has good acting and cinematography, as it builds in intensity keeping the audience fully engaged. It is also entertaining with appropriate comic relief. It is suitable for all ages. It is honest and authentic, as well as inspirational as it provides hope for all even in difficult situations.
Diane Howard, Ph.D. is a dialogue, dialect and voice-over coach, as well as a journalist who writes about the role of faith in movies and in the entertainment field. Her website is dianehoward.com.